In the heart of Portugal's Douro River valley is an untouched-land of ancient vineyards, where making port has become an eternal art, passed on from generation to generation. Naturally, the valley also provides stunning hikes and vistas for you to discover, whatever the time of year you visit
Trail:
Pinhão – Pinhão

Distance:
7km
Finding Port
Long gone are the days when port was just a sweet, after-dinner serving for old British people.
Especially within Portugal, port if starting to become popular once more, especially for the younger generation. With many varieties and ageing qualities on offer, there are many similarities to that that of the scotch whisky scene.
The home of port lies deep within the UNESCO World Heritage around Pinhão, deep in the Douro Valley. It's the oldest wine-producing region in the entire world, with port wine being dated back over 500 years.
It is only from the Douro region, like champagne, that sweetened wine can actually be called port – vinho do Porto. Although it is also made in Australia, France, and Spain, under EU guidelines, it is only the port from Portugal that can take its name.
Here, across the untouched wine terraces, many of which are centuries old, the grapes are harvested, fermented and mixed with a distilled spirit, and stored in casks to help the drink mature.
Pre-industrialisation, these casks of wine were carted down the valley, across the river using oxen, and onto boats where they were taken down to Gaia for storage. At Pinhão train station (a real treasure of a vintage station for those budding enthusiasts) pictures of which are depicted on the classic Portuguese azulejos blue tiles.
Pinhão is a sublimely beautiful village full of restaurants, farms, and vineyards. It's a nirvana for foodies, drinkies (is that a word, can we use this please?), and anyone with a sense of adventure. From all sides of the village you can venture out into the countryside, along valleys, streams and vineyards to wherever you heart desires.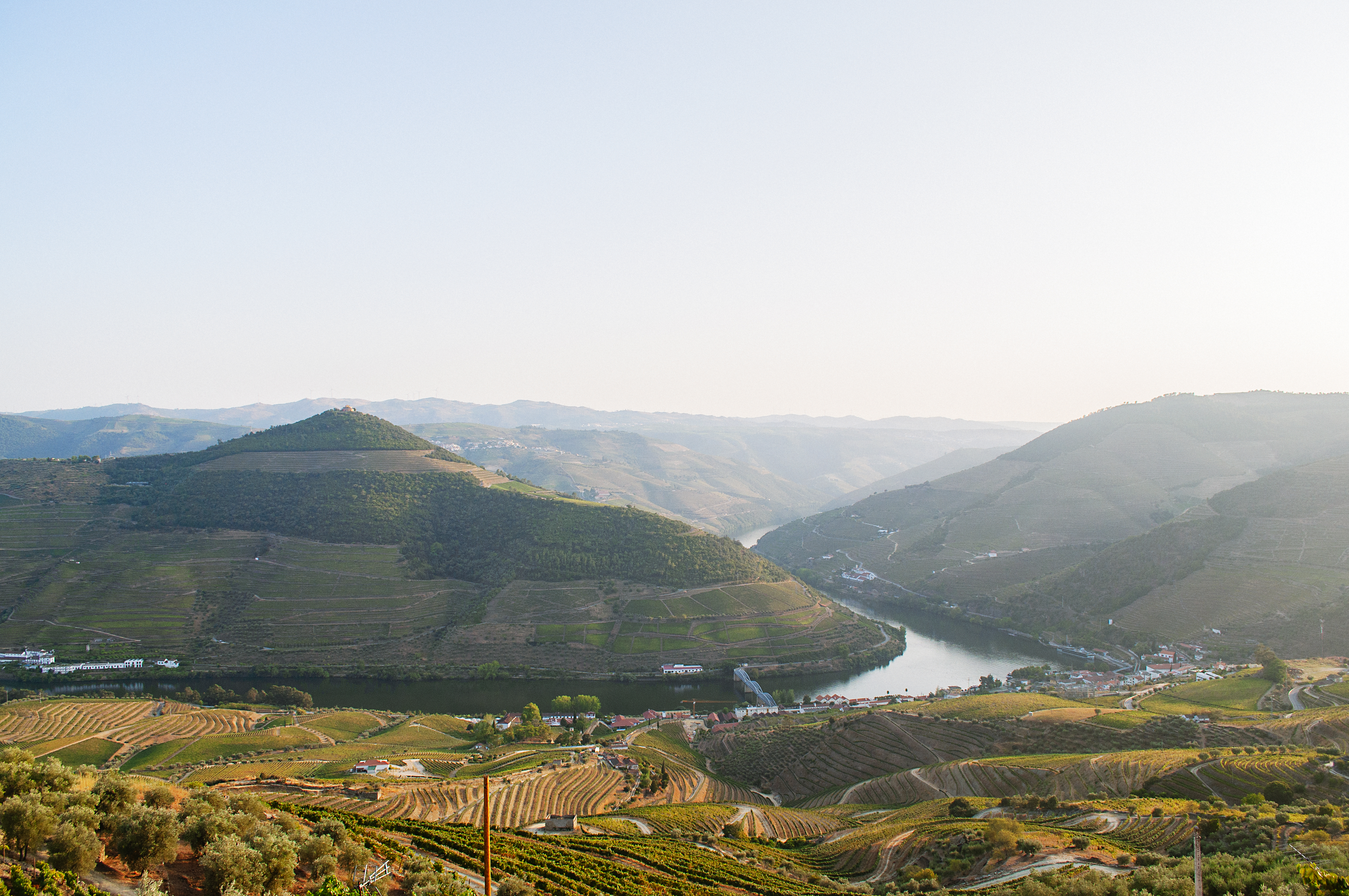 The Pinhão Hike
Pinhão lies on the Douro river, around two-hours east of Port. A trip you should definitely take by train so that you can enjoy the perfect, rolling, lush landscapes. In Pinhão, a steam train awaits you to take you through the world famous vineyards, along with hourly boat trips.
It's here in Pinhão that you can also find vineyards and quintas belonging to some of the world's most famous port manufacturers including Croft, Graham, and Cockburn, along with many other smaller companies.
From Pinhão there are many hiking routes you can explore, or simply ad-lib, but be warned as sign-posting isn't great, plus it's technically not allowed to stray on vineyards, even though most people won't notice.
Whilst staying here I personally wandered all around the valley, intersecting different trails and finding the odd-family quinta which I could visit.
The hike I personally recommend is called the Trilho miradouro Casal de Loivos. It was something that was offered to me by Douro Walks (more about them later). Although relatively short at just 7km, the path includes quite a large ascension, and takes you along many rugged roads.
Leading you out east of the village, past several quintas, the little path guides you up to a wonderful miradouro, where you can get the best views across the whole valley.
You can find a link to the route on my Komoot page HERE.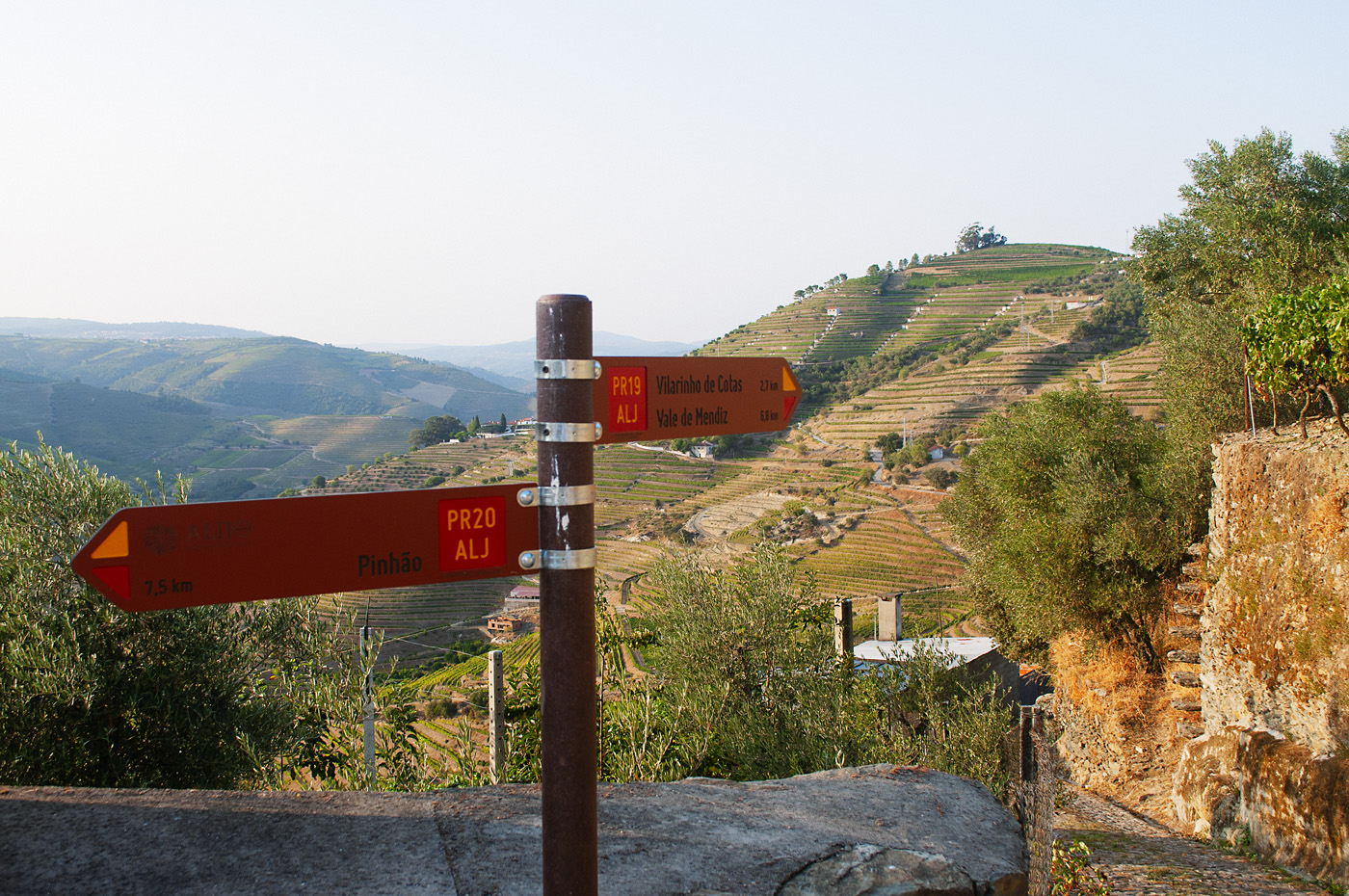 Up and Over
As you venture east of the village past the Quinta do Bomfim, head north up the the hill, where you will see a sign post up to the Miradouro. It's a steep climb as you venture upwards, but along the way you'll pass almond trees, which you can pick from and eat away at your heart's content.
At the top of the hill, you'll pass the rustic village of Casal de Loivos, where there is an incredible museum dedicated to olive oil. You can also do a small detour to Quinta do Noval who apparently do really incredible ports. Tours here are private here and must be booked in advance.
Once you're out of the village, there are two sterling look out points for you to take a break at, and check out the views of the valley.
There are a couple more quintas are on the dirt trek back to Pinhao, including Quinta do Jalloto, and the Quinta da Roêda, but the big one you want to check out is Bomfim.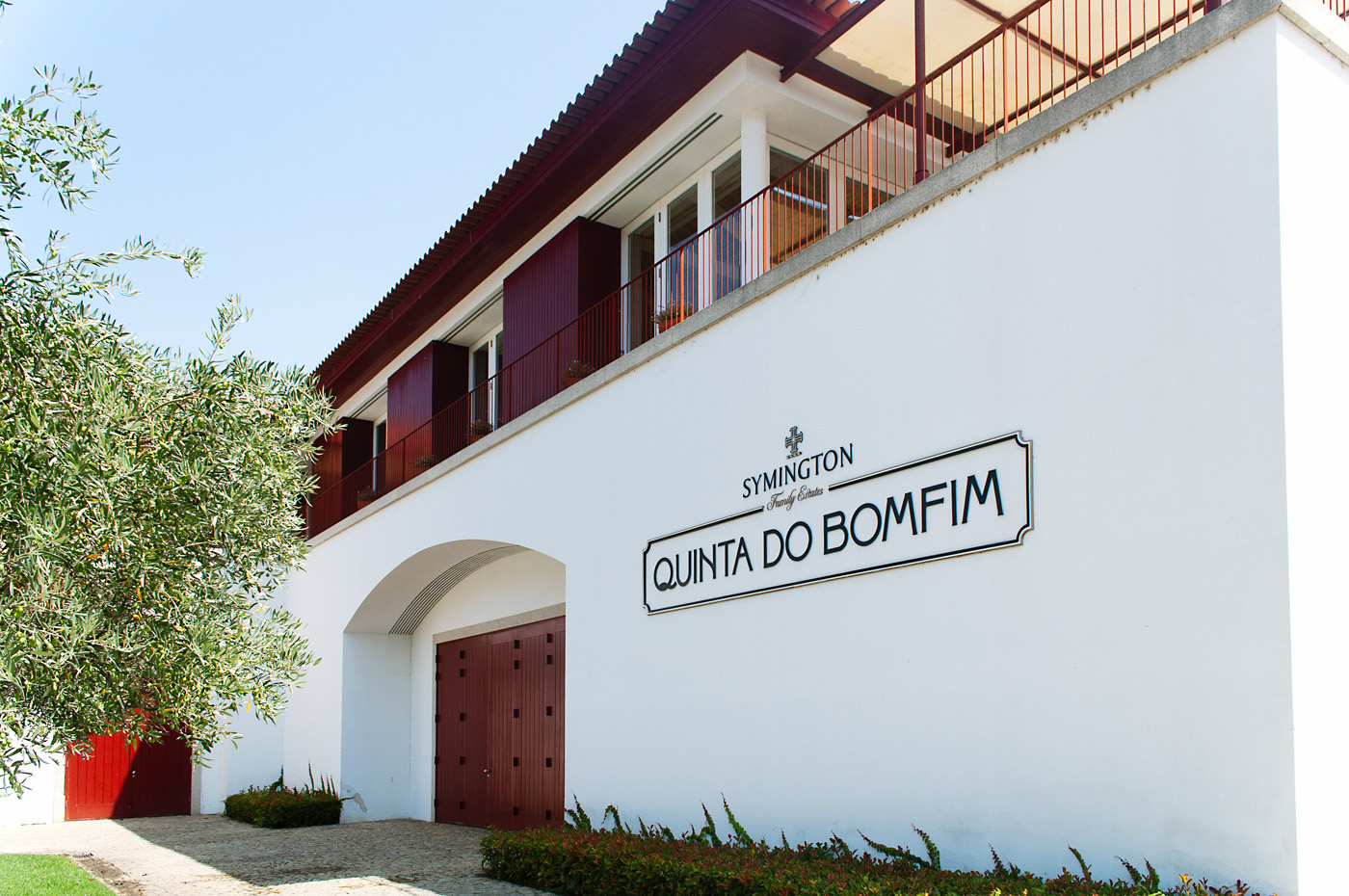 As you come down the valley, you can look out to the eastern Douro. It's around this area they've found some of remnants of early mankind, with cave paintings dating back 20,000 years. Clearly, early man knew a good thing when he saw it.
The route then turns back along the river and alongside the vineyards of Quinta do Bomfim. Although it's quite a large and commercial producer, it's definitely worth doing a tour, which is full of detail and very eye-opening to the world of industrial port production.
Quinta do Bomfim is part of the Symington chain of port producers, and dates back to 1896. Here you can take a guided tour, which includes an extremely thorough tasting session, and picnic lunch should you so desire. Again, everything needs to be booked in advance.
My tour was made possible thanks to Douro Walks, who provided me with a detailed history of the area, the landscape along with information about the grapes and wines. António is an expert on the region, and I cannot recommend his personalised tours enough – this is not an ad. António also provided me with the hospitality that the Portuguese are know to excel at. If you're in the area, then you have to check out their website, which offers lots of different options for those of different hiking levels.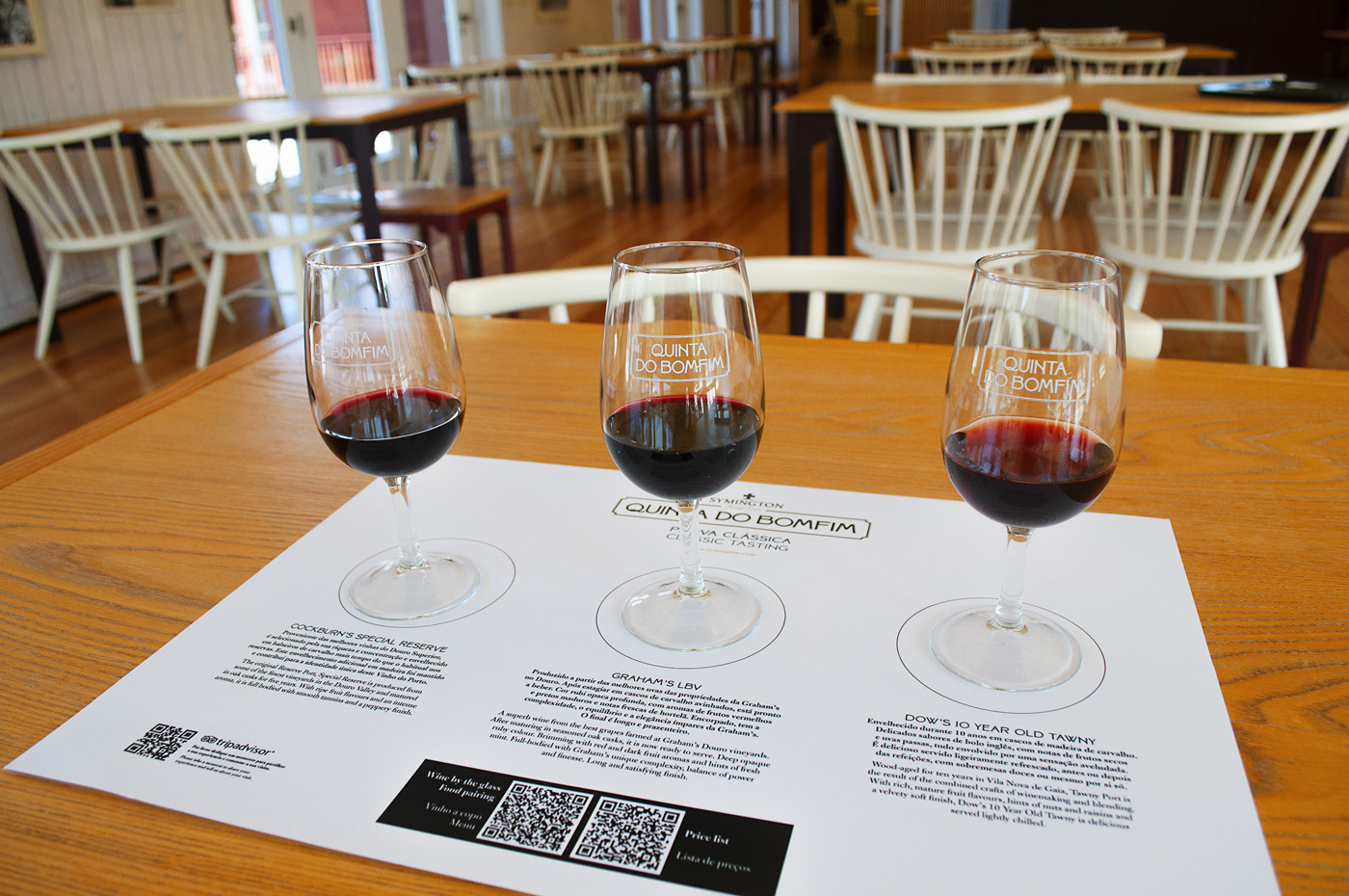 In Pinhão, you're in the heart and centre of the port region. From here there are many other quintas accessible by foot, including Quinta das Carvalhas, Quinta de la Rosa, and my favourite, Quinta do Beijo. It's a paradise for anyone wanting to come and sample wine and port, and personally it's great to discover things by foot instead of by car.
Pinhão is just a two-hour train journey from Porto (only costing under EUR 15,-) and is the pearl in the Douro Valley. A must for those who like hiking and drinking.