In the Alpstein mountain range in Switzerland is an 84km hiking that that connects 26 different huts, each one providing a unique blend of whisky. Those who manage to circumnavigate that mountain route and collect each whisky bottle receive a special gift by the Säntis Malt distiller in Appenzell.
Trail:

Wasserauen – Ebenalp
Distance:
84km
The Appenzeller Alps are some of the most beautiful mountains you can visit in Europe. It's also home to incredible hiking, all interspersed with some great and homely mountain huts for you to rest in, charge your batteries, and in this instance, grab a drink.
Initiated by Locher AG brewery, the home of Säntis malt whiskey, the Appenzell whisky trek spans the entire Alpstein mountain range. The hike is a whisky lovers dream, with Säntis creating a unique blend for each mountain hut. Each blend has its own distinct flavour and can be bought in a multitude of styles.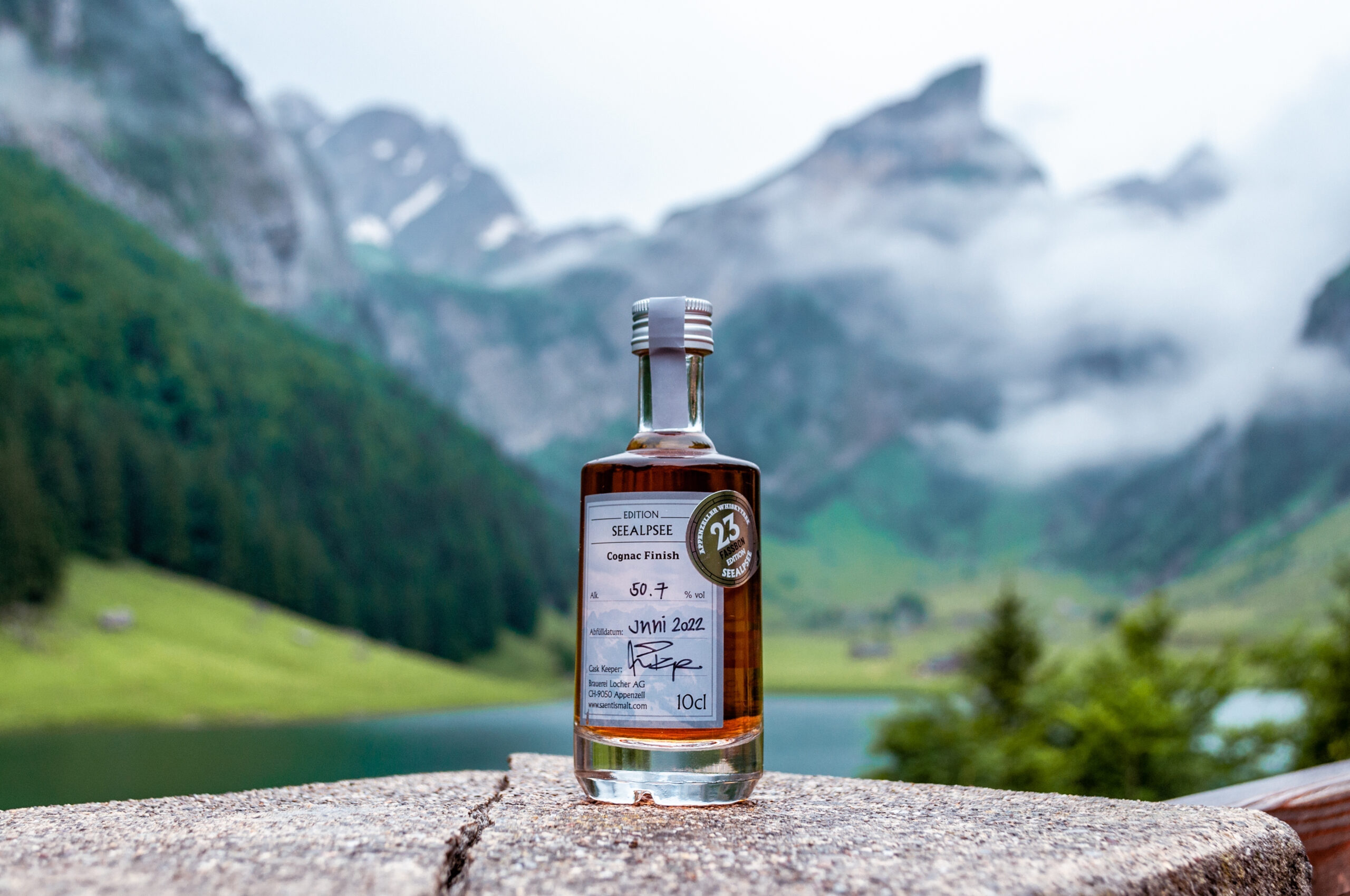 The Hike
The mountain range has a multitude of different paths that connect the huts. As such there is no one way to hike the trek. It's also worth keeping in mind that the difficult range here is vast, with easy stages, and literal cliff-hangers.
Amongst the many mountain huts to visit include the Seealpsee on the valley floor, the  iconic Aescher on Ebenalp, and the Alter Säntis from where the whisky took its name.
We started our trip at Wasserauen, hiking to Seealpsee, and then up to Berggasthaus Meglisalp, before ascending all the way up to Rotsteinpass, which at 2,119m above sea level, offers some incredible views across the valley.
From here, the adventurous can brave their way across to Alter Säntis, however we descended back down to Meglisalp, across the plateau to Berggasthaus Mesmer, before finishing at Berggasthaus Ebenalp. These routes are fine for OK hikers, weather permitting.
Along the routes are an abundance of wildlife; horses, alpine cattle, goats, marmots, and ibex. As well as the mountain huts there are farms, dairies and cheese shops, for you to stock up on all types of Swiss treats.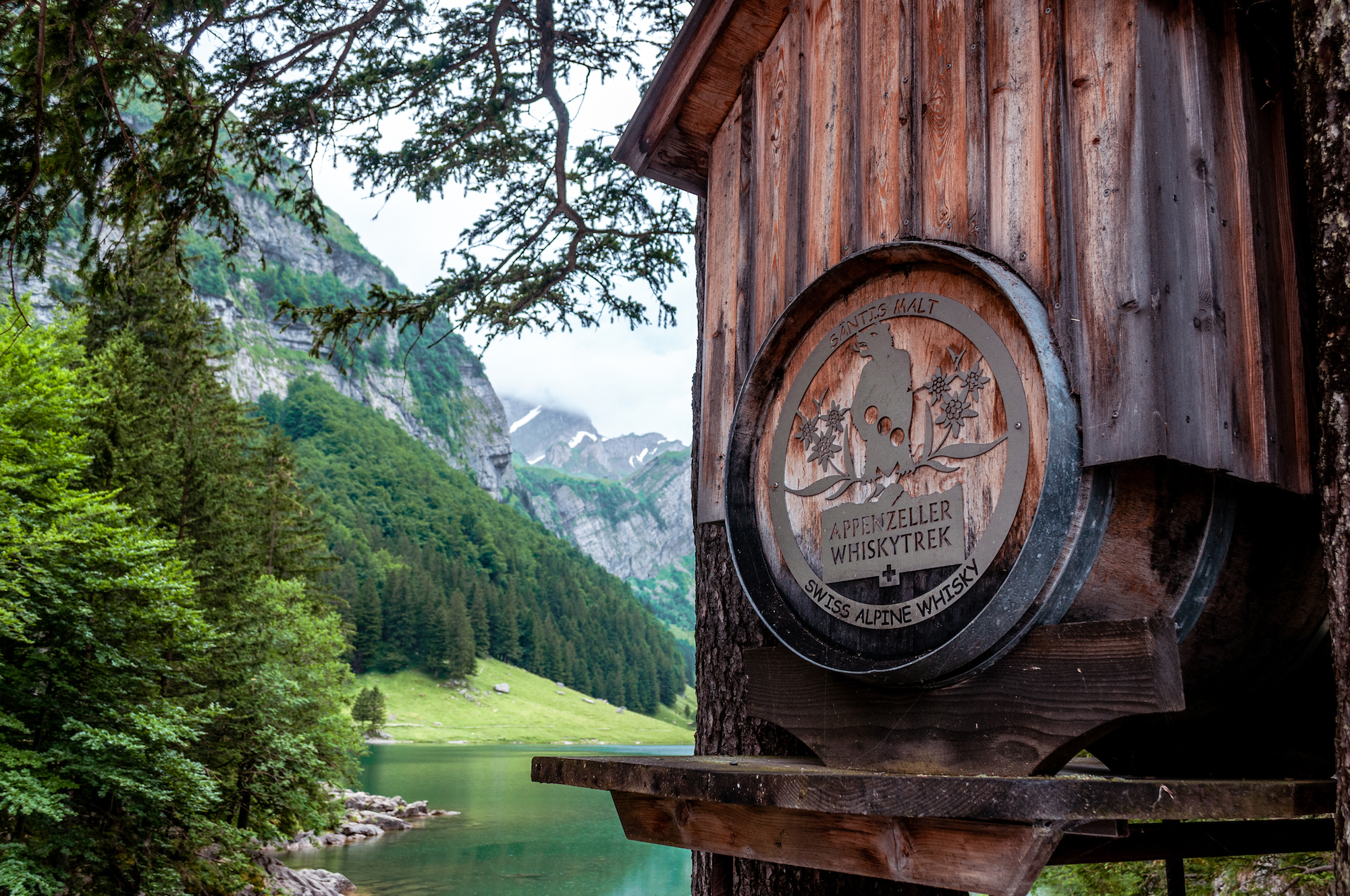 How to Get There
Appenzell is a wonderful Swiss alpine town, that is only 30 minutes by train from St. Gallen. From here, you can connect to Zürich, Innsbruck, and across the border into Germany.
In Appenzell you should also visit the Brauerei Locher, home to Appenzeller Bier and the Säntis Malt. It's a worthy visit, with a great gift shop and sampling room.
From Appenzell a small train runs all the way to Wasserauen. There are multiple starting points from Wasserauen, and even a cable car to Ebenalp. It's where most people will start their hike, although you can also start at Brülisau.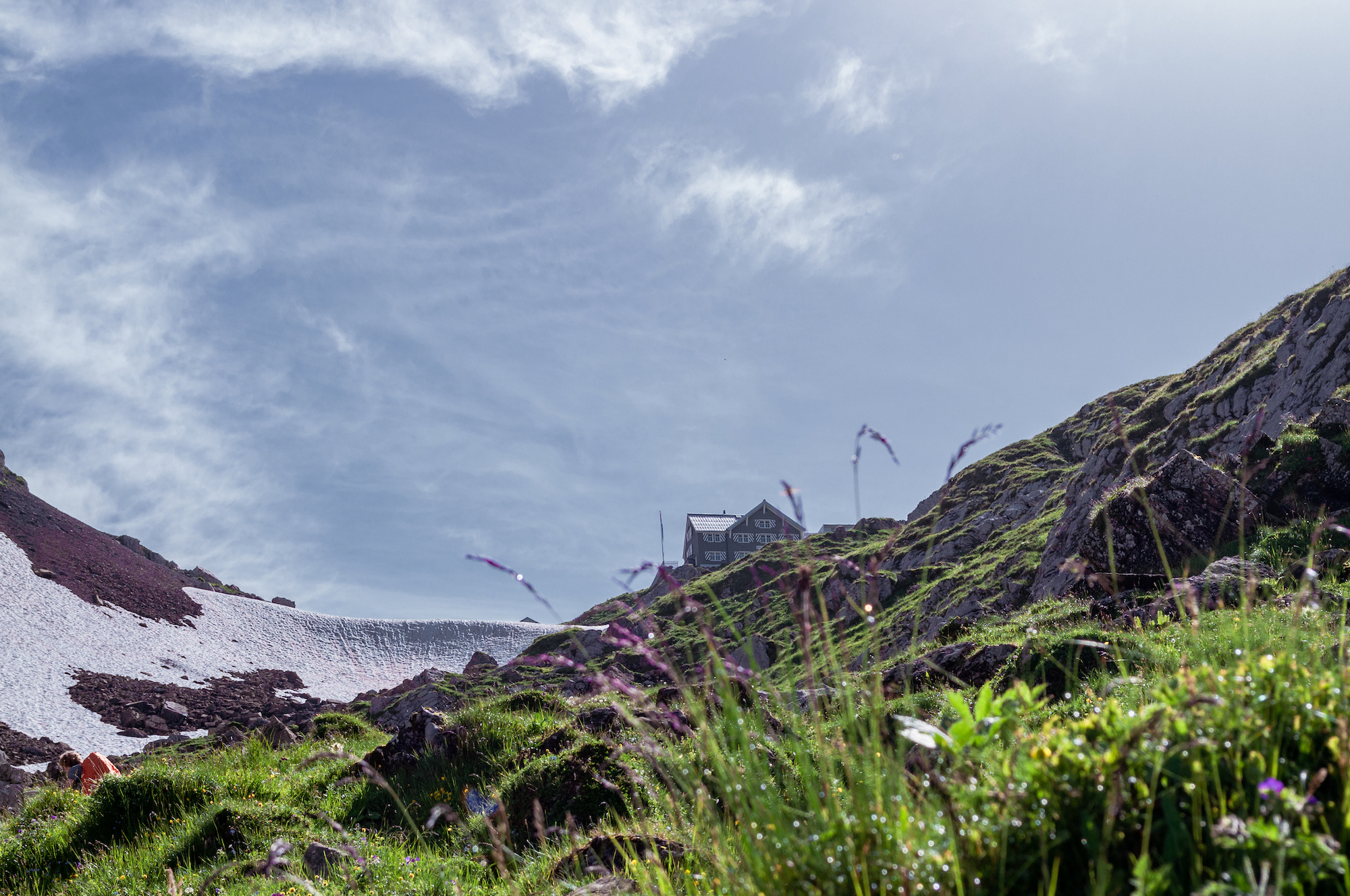 Things to Note
Switzerland has only two difficulty grades, hard and easy. This can make it difficult to access whether or not a pass is doable. Some of the passes cross mountain ridges, have steep and rocky inclines, and occur at extreme high altitudes, so plan ahead.
Each mountain hut requires you to book in advance. Plus, the cost is quite extensive.
The weather, as is with all mountain treks, unpredictable. In the three days we spent hiking there we went through days of poor visibility, fog, extensive rain, thunder, and hot sunny weather.
And finally, it is not recommend to actually do hiking and drinking at these altitudes with such extremes. Drink in moderation and enjoy the scenery. Collect your whisky bottles and enjoy at a later time.