Although Bavaria grabs all the headlines, the area of Upper Franconia in Germany, is where all the heads go to drink beer. The area surrounding Bamberg has the highest number of breweries per capita, while boasting the most amount of variety of differing varities of beer. A veritable paradise of beer, the area also has a vast interconnected set of hiking routes connecting many of the breweries. The most famous trail of which is the 13 brauereienweg.
Trail:
Strulendorf – Memmelsdorf 
Distance:
32km
While researching for a larger article about hiking and drinking for Thrillist, I journeyed down to the Franconian Tuscany region, an area famous for its dark beers, to explore its countryside and hidden brewing getaways.
Bamberg – 'the city of beer' and Unesco World Heritage Site, sits on the border of Northern Bavaria border. The region itself has become world-famous thank to its particular brand of smoked-beer, produced within the many micro-breweries that are littered around the countryside. To get the most of this, the Thirteen Brewery is a great way for you to familiarise you way with the area, along with the numerous brews on offer. The hike takes your through the area just outside the city, amongst villages, fields of wheats and local farms – while journeying via some incredible establishments.
Although the route starts in Memmelsdorf, I stayed in Geisfeld and stayed at the Pension Luisenhof (highly recommended), where the owner drove me to the starting point at the Brauerei Drei Kronen. The starting brewery offers up an excellent tour of their brewing history, detailing what makes the smokey beer so special.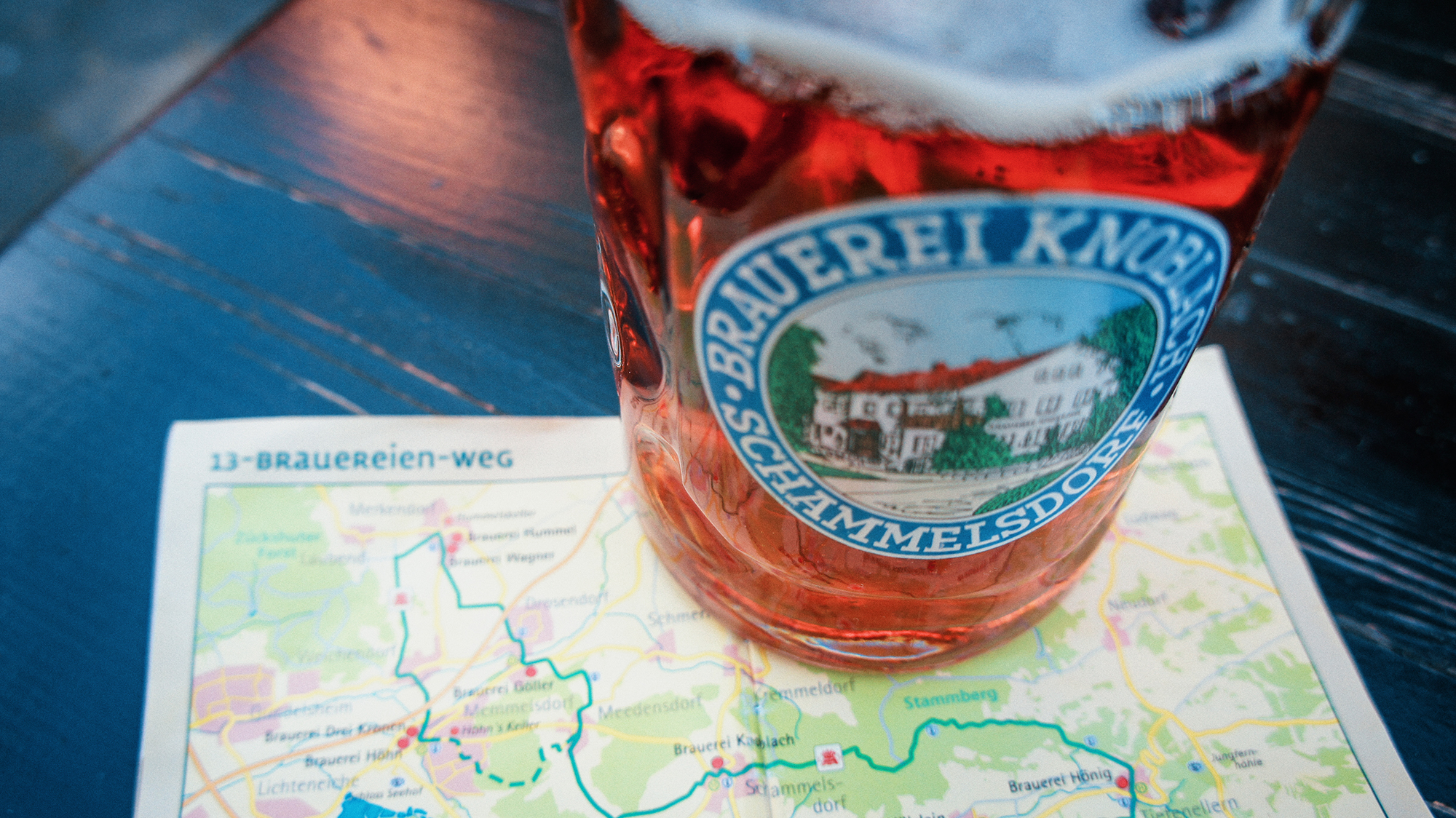 From here the route curls around to the Brauerei Wagner where you can grab lunch – Schweinshaxe, aka. roasted pork knuckle. As you weave your way between one brewery to the next you can grab yourself a small taster of each pub's different take on the smoked beer tradition. After a few beers though, you might find yourself traipsing off a little. The Rauchbier here is poignant and heavy, rich in hops, and seasoned like a smoked herring. Not all thirteen breweries might be open, which may be a blessing, as thirteen beers can take its tole.
The Rossdorfer Felsenkeller, home to the Brauerei Sauer, provides a great relief for those trying to do the hike in one day; A lovely outdoor setting, with a refined beer drowning in hops, and tasty brotzeit options to snack into, with a great view out in the fields. It's also the penultimate stop before you reach the very end of the trail.
Overall it's an ambitious route to do in one day, and recommended that you just make a wholesome weekend out of it. The different villages are well connected via bus, as is the entire region to Bamberg. It's a great way to get to know beer, without being stuck in one place at one time. The locals here are also very passionate, which also makes for a great learning experience.